Interview with Visiting Faculty-1
An Interview with Dr. Pierre van der Eng, Visiting Researcher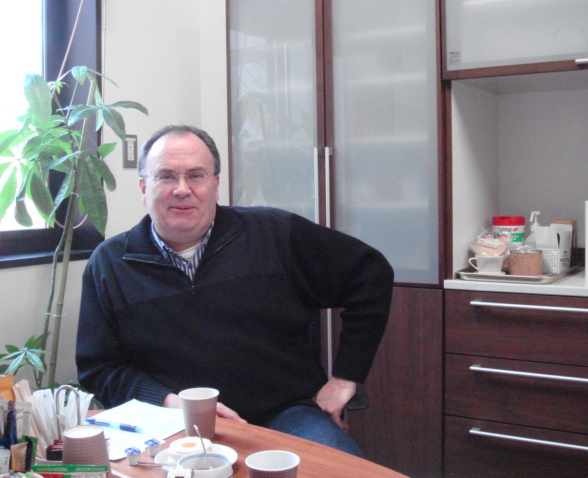 The Institute interacts with institutions in different parts of the world. It invites outstanding international researchers for short-medium term stays to provide lectures, engage in discussions about their research and offer new viewpoints to the members of the institute.
A recent visitor was Pierre van der Eng from the Australian National University (ANU). His research interests include economic history and development economics, as well as business history and international business. At the institute he worked on a project to measure long-term economic growth in Indonesia. The Center for Economic Institutions caught up with him.
My life as a researcher.
Q. You don't sound like an Aussie; where are you from?
As my family name suggests, The Netherlands. I studied history and economics and completed a PhD at the University of Groningen with Angus Maddison in the North of the country. Angus was a global citizen and introduced me to international opportunities, as he did with all his graduate students. As a consequence, I have worked in Australia since 1991, studying aspects of Asian countries, particularly Indonesia.
Q. Why Indonesia?
To start with, because Angus Maddison invited me to do a research project on Indonesia, which required a person with academic interests in economics and history. I had no idea what I was getting myself into, but I loved studying Indonesia, and still do. For many reasons it is a fascinating country, that offers many opportunities for academic research, both past and present.
I enjoy researching; finding out how things work, and also reporting research findings. Clearly, I was very pleased when I was offered a Postdoc position at the ANU in 1991. That led to further appointments at the ANU and opportunities to diversify my academic expertise from economic history and development economics to international business and business history. Where possible, involving Indonesia. I am currently seconded for 3 years to the Indonesia Project at the ANU, which indicates how significant the study of Indonesia is in Australia.
Q. How do you see economic development in Indonesia and South East Asia?
There are many things that we can discuss. Perhaps one of the most significant developments in South East Asia is that all countries since the early 1990s are working towards the ASEAN economic community. Economic integration across the region is nothing new, as the economies in the region were in many ways integrated until the 1930s. But only historians know that. Living memory is of significant tensions in the region in the 1960s and inward-looking development during the 1970s-1980s. For that reason, the institutionalization of economic integration through ASEAN since the early 1990s has been a significant step. It creates new opportunities for countries in the region to open up their economies towards each other, and work towards a single market.
One reason why those countries have started to think about what they had in common, was of course the fact that China has become a major magnet for foreign investment, and the countries in South East Asia feared missing out. Working towards a single market for goods, investment and to some degree labor is expected to increase the region's attractiveness to foreign firms. Indonesia is the biggest economy in the region, and is therefore an integral part of this process. A similar process of economic integration took place in Europe since the early 1950s, but it took European countries forty years to reach a high level of economic integration, and they are still working on it. In other words, South East Asian countries have to be in it for the long haul.
Q. How do you see Japan's role in the economy of the region?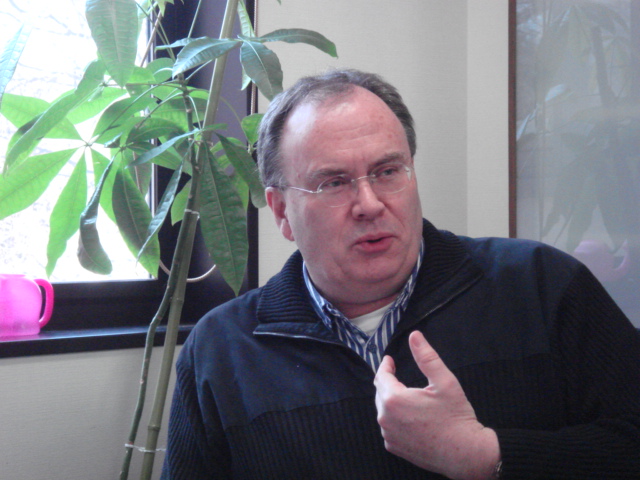 I think Japan has been crucial, in a sense that discussions about economic integration across East Asia only became pertinent when Japanese companies started to invest in other Asian countries in the late-1980s to a much greater degree than before. But that stage, Japanese electrical and electronic, and also automotive products had become very popular in global markets. But when the Japanese yen appreciated very quickly since the mid-1980s, Japanese exports became much more expensive in international markets. One way to overcome that was to invest in production facilities in in Southeast Asia and later also China to take advantage of the lower production costs.
Japanese investment in South East Asia increased significantly. And Japanese subsidiary companies started to produce different parts in different Asian countries, then exchanging parts between subsidiary companies, before assembling the final product. And this increased intra-Asian trade significantly, and improved understanding among Asian countries of their common interests in lowering trade barriers to each other. So, Japanese foreign investment was very important in this process. In fact, it wasn't just Japanese companies that were involved, several Japanese government institutions were in various ways involved in facilitating this process; from JICA and JETRO to the Exim Bank of Japan.
Arguably, Korean and Taiwanese companies started to do the same thing as their production costs at home increased. And it is very likely that Chinese companies will be trying to do the same thing, for the same reason. So, all that means that Japan is now sharing that role with other countries in the region. It is not just that countries hosting foreign investment have common interests, arguably countries from where investment is originating share interests in regional economic integration as well. 40 to 50 percent of investment in the rest of Asia still comes from Japan, which makes it a major player in the process of regional integration, but the interests of other countries have to be accommodated and compromises have to be reached.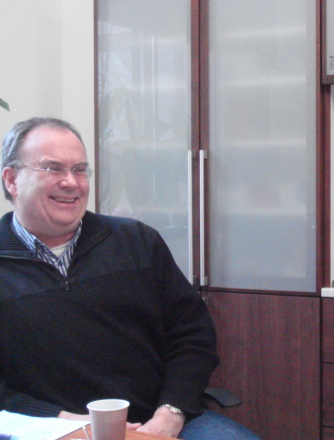 Q. What is your greatest gift in life?
Well, life has offered many gifts to me, I would say. The main gift is meeting many people from different parts of the world. For example, 30 years ago, I would never ever have believed that I would visit Japan frequently, meet many different people here and enjoy their incredible hospitality. Of course, my wife being Japanese had much to do with that, but shared academic research interest is also a relevant reason. So, where possible, I would like to return that gift. Not many people come to Australia, as it is perceived to be a long way away. But when international come to Canberra, where I live in Australia, I try to return the hospitality that I received in other countries, such as Japan.
Q. What would be some of the challenging things in your life as a researcher?
Possibly the fact that life as an academic and family life cannot be strictly separated. There are always deadlines to meet and different work commitments in terms of teaching, research and administration to juggle. Consequently, work is not exactly from 9am to 5pm. It is very likely to be the same for colleagues at the Institute here. The problem is that we like to think that we can do all things well. But actually we don't have time to do everything to the highest standard, and we end up doing most things at the highest possible standard, given the circumstances.
Certainly at times when academic commitments intersect a lot, perhaps too much with family life, I don't feel too good about that. But on the other hand, visiting other countries sometimes allows me to travelling with my family. As a consequence, my daughter has seen more of the world at the age of 13, than I had seen of the whole of The Netherlands at that age!
Q. Do you like doing research?
Yes, I like trying to understand how and why things work (or don't) in the world, which helps me to understand why things are as they are. That is perhaps a very selfish reason, but I also like to report on the findings of my research. I am not sure whether there are many people who are interested in the results of my research, but looking at numbers indicating downloads of my online papers, suggests that there must be quite a few.
The other thing that makes research interesting is that it always leads to other questions. Just when I sort of understand one thing, I realize that there are many other things that I don't understand. In other words, one question leads to another question. That's nothing new; all academics tend to experience that. While that excites them, maybe it is rather boring for the rest of the world!
Hitotsubashi IER and ANU.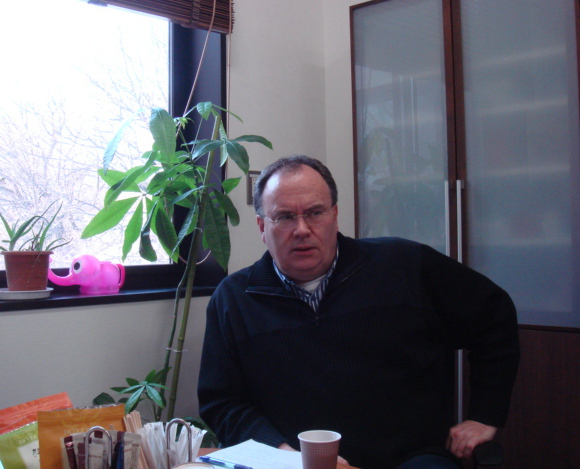 Q. Are there similarities between Hitotsubashi University and the ANU?
The main similarity is of course a strong focus on research, and, for that matter, research relating to the Asia-Pacific region, particularly East Asia, particularly in economics and business studies. You may know that the Institute of Economic Research at Hitotsubashi University and the ANU share a parallel and often intersecting development in this respect. In the early-1960s, Professor Kiyoshi Kojima already worked with colleagues at the ANU, particularly a very prominent Australian scholar (at least at the ANU), Sir John Crawford. Professor Kojima also visited the ANU.
In the light of what we discussed earlier, Professors Kojima and Crawford shared a keen interest in understanding regional economic relations through new research, and particularly the roles of Japan and Australia in the processes of regional economic integration through improved trade and investment relations. They also shared an interest in fostering the political processes that facilitated cooperation across countries in the Asia-Pacific region.
Q. What is your favorite part of our Institute? How did you first meet us?
Oh, I love your library, it's one of the best! It is not my favorite part of the building to be in, because the areas with the stacks are quite cold in winter. But the collection is marvelous. It is good to be able to take books and journals from the stacks and rush straight back to the warm office to read them.
I first came to Hitotsubashi University in 1996, when Professor Ryoshin Minami organized a conference on income distribution and political stability. Together with Professor Malcolm Falkus, he invited me to contribute a paper on Indonesia. At the conference I met Professor Konosuke Odaka, Professor Osamu Saito and many others. And I have been very fortunate that the Institute has invited me to return several times, particularly in relation to my research involving Indonesia. It is a pleasure to discuss shared research interests with colleagues at the Institute.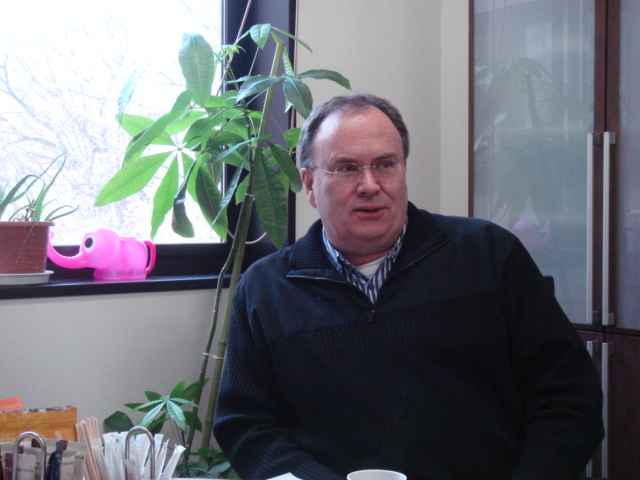 Q. Please share with us some encouraging messages to our young researchers.
You make me feel quite old now! I guess my main message is well-known to young researchers today: Use all the opportunities available to you to draw international attention to what you are doing through publications, possibly on-line publications. As the potential international audience is much bigger than the Japanese audience, it is likely that you find greater interest in the outcomes of your research internationally than just in Japan. And other things may flow from that. But unfortunately that is likely to mean publishing in English. A second message is: Do the research that interests you. You are more likely to go the extra mile of finding new data and analyzing them more rigorously than would otherwise be the case. And that may support the first point.
We thank Dr. Pierre van der Eng for this interview, coming all the way from Australia, reconfirming the strength of our institute in being open and global to the rest of the world. We sincerely wish him for the very best in his future endeavors.
Interviewed on Tuesday, February 18, by CEI staff, Akiko Ito, Cindy R. Suzuki, and Nozomi Wayama.