Interview with Visiting Faculty- 6
An Interview with Dr. Dmitriy Kvasov and Dr. Tatyana Chesnokova, Visiting Researchers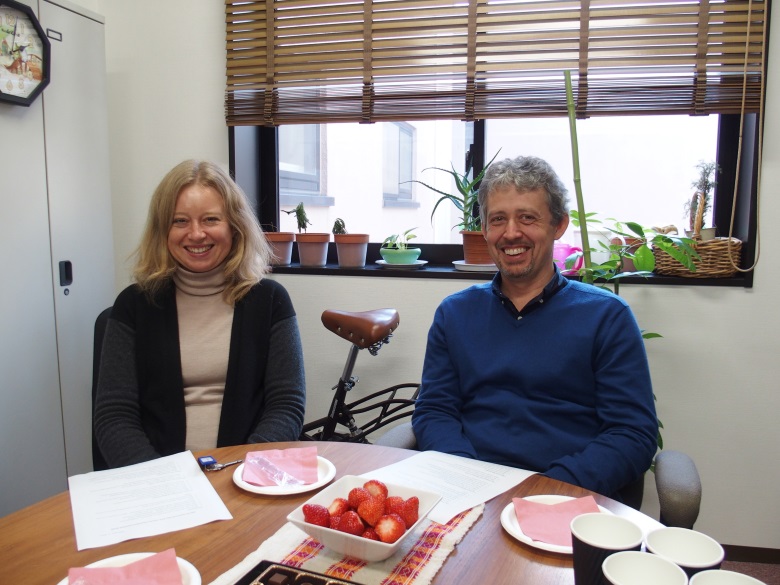 The Institute recently invited two young researchers for 3 months stay from January to April, 2015. They have been sharing most of their walks of life together, under the mutual interest in their academic fields.
Dr. Dmitriy Kvasov and Dr. Tatyana Chesnokova are both from the University of Adelaide (Australia). Dr. Kvasov's research interests include microeconomics, game theory and mathematical economics, while Dr. Chesnokova's research fields include international trade, development economics, and applied economics.
We are very happy to talk to Dr. Kvasov (DK) and Dr. Chesnokova (TC) about how to cooperate and strive through their researching lives together, finding joy in every aspects of their life scenes!
When we were small…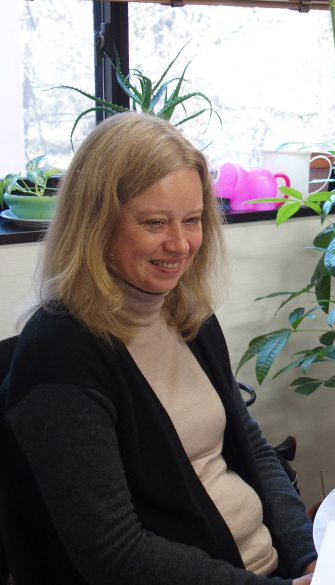 Q: Where and how did you grow up?
DK: I was born in Russia, it was then Soviet Union, and I grew up in a town called Penza. It is a medium sized industrial town, 800 kilometers east of Moscow. I think I was a common child, who was interested in astronomy, literature and chess.
TC: I spent my childhood in Kazakhstan, in a city called Almaty. At that time, it was the capital of Kazakhstan, which was a part of Soviet Union until the break up in 1991. It is a country in the central of the Eurasia continent, sharing borders with Russia, Uzbekistan, China, Kyrgyzstan, and Turkmenistan, the ninth largest country in the world. It is a country with many ethnic groups, such as Kazakhs, Russians, Uzbeks, Ukrainians, Tatars, Volga Germans and many more. I'm Russian, ethnic minority, but at that time, everybody spoke Russian. I was learning the official language Kazakh when I was at high school.
Q: When and how did you first think of taking economics as your major and then become a researcher?
TC: Well, because I was taking applied mathematics as an undergraduate student, I wanted to do something related to my studies. And then, there was this very new school established in Moscow, New Economic School, which was interesting for me. So I took the opportunity to study there. Applied economics has some similarities with applied mathematics, which accelerated my motivation to study more.
DW: After I graduated from the high school, I went to Moscow to study physics for 6 years, at Moscow Engineering Physics Institute. But when I was graduating from the institute, the government was cutting funds for the areas of physics and nuclear physics. And then, as Tatyana was saying, there was this new school established in Moscow, admitting people who already had degrees in mathematics. It looked like a very interesting option to take, so I decided to study economics at the New Economic School in Moscow. And it turned out to be, that this was where I met Tatyana!
TC: Yes! At the time when we graduated from the New Economic School, there was a financial crisis in Russia, which had forced to limit the job opportunities for many young people. So, both of us decided to go abroad to continue our studies in Ph.D., and went over to The Pennsylvania State University in the USA.
How we started our lives together as cosmopolitans.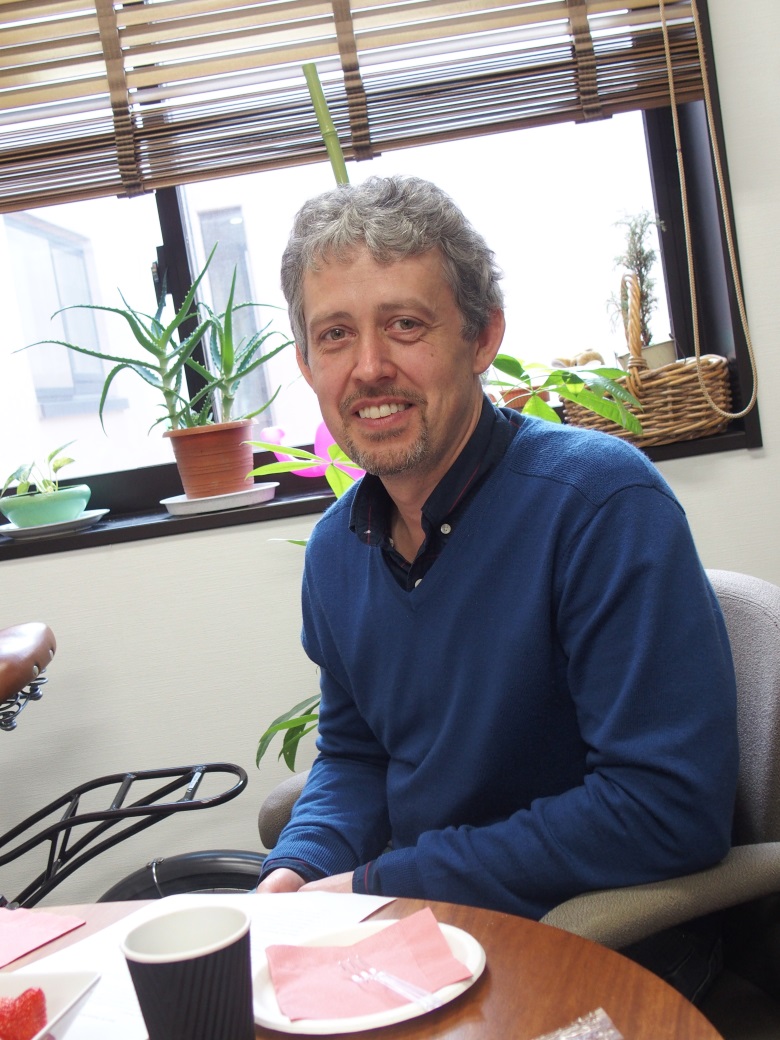 Q: How did your life continue after you arrived in the USA?
TC: We did our Ph.D. at the Penn State, and got married there. Then we moved to Auckland, New Zealand, for there were some job opportunities, and lived there for six years. Auckland is a very beautiful place, I think Japan has something similar to New Zealand, in terms of natural beauty, it is a very diverse country.
DK: Also, our son was born in New Zealand. Auckland is an interesting city along the coast, if you walk up and down, hills are very steep, because of those volcanos located within four hours' driving distance from the city center.
TC: Similarly to Japan, New Zealand has hot springs, too. Some are commercial, others are non-commercial. There is one unique beach in North Island where you can dig up the sand when the tide is low, and make yourself a personal hot spring!
TC: After our time in New Zealand, we moved to Adelaide, Australia. It will be our fifth year there now. We've also been to Stockholm, Sweden for a few months to do our sabbaticals.
DK: In Australia, most people live along the coast from east to south, maybe from Cairns down to Adelaide. Almost no one live in the middle, due to the severe nature, some live near Perth on the western coast.
TC: In South Australia, if you drive for about two hours from Adelaide, you will reach to the dessert. We just had a road trip in September from Adelaide to the Northern Territory in central Australia, to see the famous rock Uluru.
DK: It is about 1,500km away from our home in Adelaide, 2 days' driving distance. And it is a huge one piece of a rock, about 10 kilometers to walk around.
Q: Looks like a very exciting life you are leading together! Were there any hurdles you have faced in your careers so far?
TC: Since we are a couple, we have to look for our jobs within the same area so that we can live together. This is sometimes a challenge when you are in a rather small city, looking for jobs for both of us.
Living in Japan for the first time, "Kunitachi"!
Q: How do you like living at our Kunitachi International Guest House?
DK: We like it very much! It is very convenient, the size and everything else is very manageable.
TC: The apartment is well planned.
Q: How about the Kunitachi city?
TC: It is very nice, not so crowded as central Tokyo, you feel more relaxed. Very residential.
DK: Yes. It's a very pleasant venue when you come back for home from work, on the main street, very pleasant. Kunitachi is very conveniently located, too, it is not too far away from the central Tokyo. And if you do not feel like going to big cities, you have Tachikawa for your shopping options, with many shopping areas. Kunitachi has all these nice patisseries, too!
TC: Yes, too many temptations! My favorite patisserie in Kunitachi is Les Entremets, one on Asahi Dori, and another one on Daigaku Dori. Also, this bagel place, where you have to line up in a long queue, but they have good fresh bagels!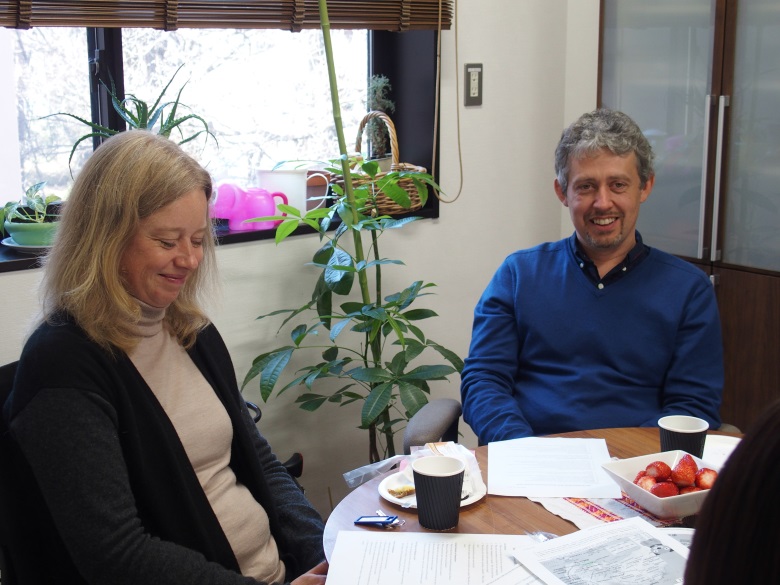 Q: So you are experiencing Japanese culture in your everyday life! What is your favorite part of our institute?
TC: I think it is very well organized, with much administrative support especially on visas and childcare. And although it is relatively a small place, there are many seminars and workshops going on.
DK: Conferences, too! Many people come to give talks. I've joined many seminars at the School of Economics. And the quality of the discussions is very high, I've seen many students actively participating with good questions.
Q: How and when did you become interested in Japan?
DK: I always say this as a joke, but I think my previous life was a Japanese! I very much like Japanese literature from the very early ages. I have always had the interest to visit the country one day. Japanese literature is quite popular in Russia, so I have been reading since my student days, writers such as Kobo Abe, Keigo Higashino, Ryunosuke Akutagawa, Yukio Mishima… Also, movies directed by Yasujiro Ozu, Tokyo Monogatari, Hiroshi Ishigahara, Kenji Mizoguchi, Akira Kurosawa…., and Godzilla!
TC: Actually, our son picked up some Japanese from Godzilla movie and he still believes that Godzilla at some point destroyed Tokyo, so Japanese people went through many reconstructions on their city after the distractions made by Godzilla!
All: So cute!
TC: For me, Japan has always been very different country from others, it has always been an attractive place to visit and see its unique culture. It might be because of Zen and the food. The food is very different from other cuisines, it is very unique, that you use basic ingredients bringing them into some special taste in some special way.
Q: What might be the differences from your university to Hitotsubashi?
TC: I think Hitotsubashi is much more research oriented, more emphasis on research activities.
DK: As I already mentioned, there are so many seminars welcoming a lot of visiting researchers despite the fact that the university itself is probably smaller than ours. And the research activities are very good. Unfortunately, we are not in the position to interact with students, it might be nice to meet them sometime. At least the students I've seen at the seminars, the Ph.D. students seem really focused. I can tell from the questions they ask to the speakers, they are very active.
Q: So, if there is any chance, would you like to come back to Hitotsubashi again?
TC/DK: Definitely!
Our researches, our lifestyles
Q: What is the greatest gift you have received in your life so far?
TC: I think it is the education which we were able to receive for free.
DK: That's a tricky question! If you think of "gift" in a more metaphorical sense, maybe, it might be just all the people I've met in my lifetime?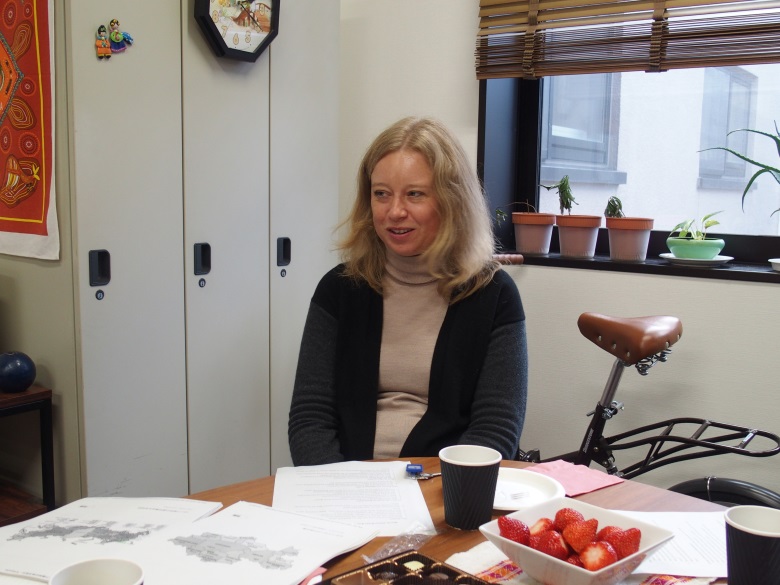 Q: Kindly share briefly about your current researches.
TC: I have a few projects I am working on now. One project is about globalization and gender gap in the labor force participation in Indonesia, which I presented here at the workshop. Another research project is about fishery access agreements, which is very relevant for Japan as it is one of the most involved countries.
DK: I'm working on theoretical issues of voting, namely trying to understand why people vote. If you think on one hand, the person is so small compared to the whole society, you might reason that one's vote doesn't really matter, But people do vote, whether or not his/her vote would end up changing nothing at all. There are some existing models to explain about this phenomenon. They capture some elements of reality but maybe not all, so one of the models which I am working on, is the situation when people vote sequentially in turns. I'm also interested in looking into the specifics of the Japanese voting systems or some kind of those comparative studies how Japanese voting goes compared to the other countries.
Q: What has brought you the interest on those themes you are working on now?
DK: I have always been interested in game theoretical, I've already done some work in this area.
TC: I was always working in the areas of international economy, but I'm also interested in development economics, so my current projects are in the middle of two fields.
Q: So, would that be your lifetime researching theme, do you think?
TC: I would be interested to move further to policy area.
Q: Now moving on to some activities! Please draw a picture of your most impressive scenes from your Japan visit this time.
TC: Okay! This is an android, we saw at the Miraikan. They were showing us how to communicate with an android! And my son had this lucky chance to experience it, but he was too scared, so I had to do it! For me, it was very interesting since it was my first time to see the android! Miraikan is a great museum and has lots more to see and learn about the technology!
DK: For me, it is the Fuji-san. One can see it when you are walking on the street or riding on your train! The most beautiful view we've seen so far, is when we visited Gotemba area, on the way from Hakone to Kawaguchi-ko. It was a gorgeous view!
"Because we have diversity."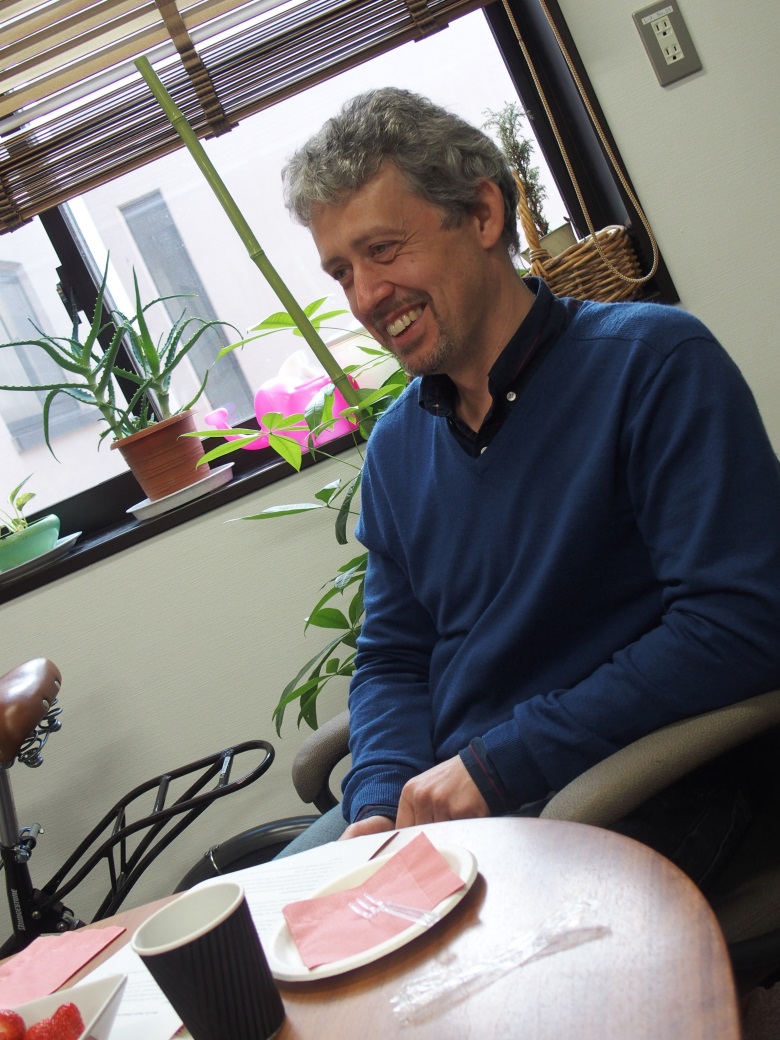 Q: May I ask you for any advices to the students and young researchers here at Hitotsubashi, working on the same field?
TC: I don't think I'm wise enough to give any advises. I'd say, just do something which they would love to do, and everything will follow.
DK: They seem to be much involved in their studies, too. They come to seminars with a lot of good questions. This is something really important to do.
Q: Is there anything you would think, as a global citizen, Japan needs to do to be better?
TC: Japan is a very unique country, why does it have to be any better? It is my impression that Japan is one of the friendliest countries, and it is very safe.
Q: Do you think that Japan is different from other Asian countries?
TC: Japan has many unique traditions.
DK: Exactly.
TC: But in Europe, it might be the same, right? France is different from other countries around, every country is different but that's a rather good point. Because this way we have diversity.
DK: Oh, I know! Japan would need to simplify the garbage recycling policies! That is probably the most confusing thing! Especially, the burnable, and non-burnable separations. To me, everything burns, right? And there is no compostable, like in Australia. But I guess it much depends on municipalities, right? In any case, they need to simplify the categories! It is too difficult!
All: We agree!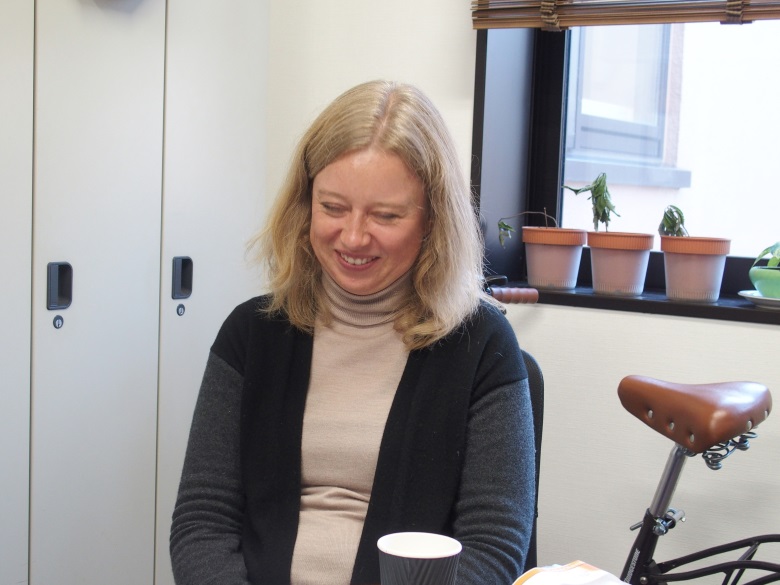 We thank Dr. Dmitriy Kvasov and Dr. Tatyana Chesnokova for taking time to share their stories and views, guiding us to learn how to enjoy life and live better at any aspects of our lifetime. We sincerely wish both of them and their family for the very best in their future endeavors.
Interviewed on Thursday, February 19, by CEI staff, Akiko Ito, and Cindy R. Suzuki.